Human Quality Ingredient Dog Treats
---
100% Natural        Baked From Raw      No Additives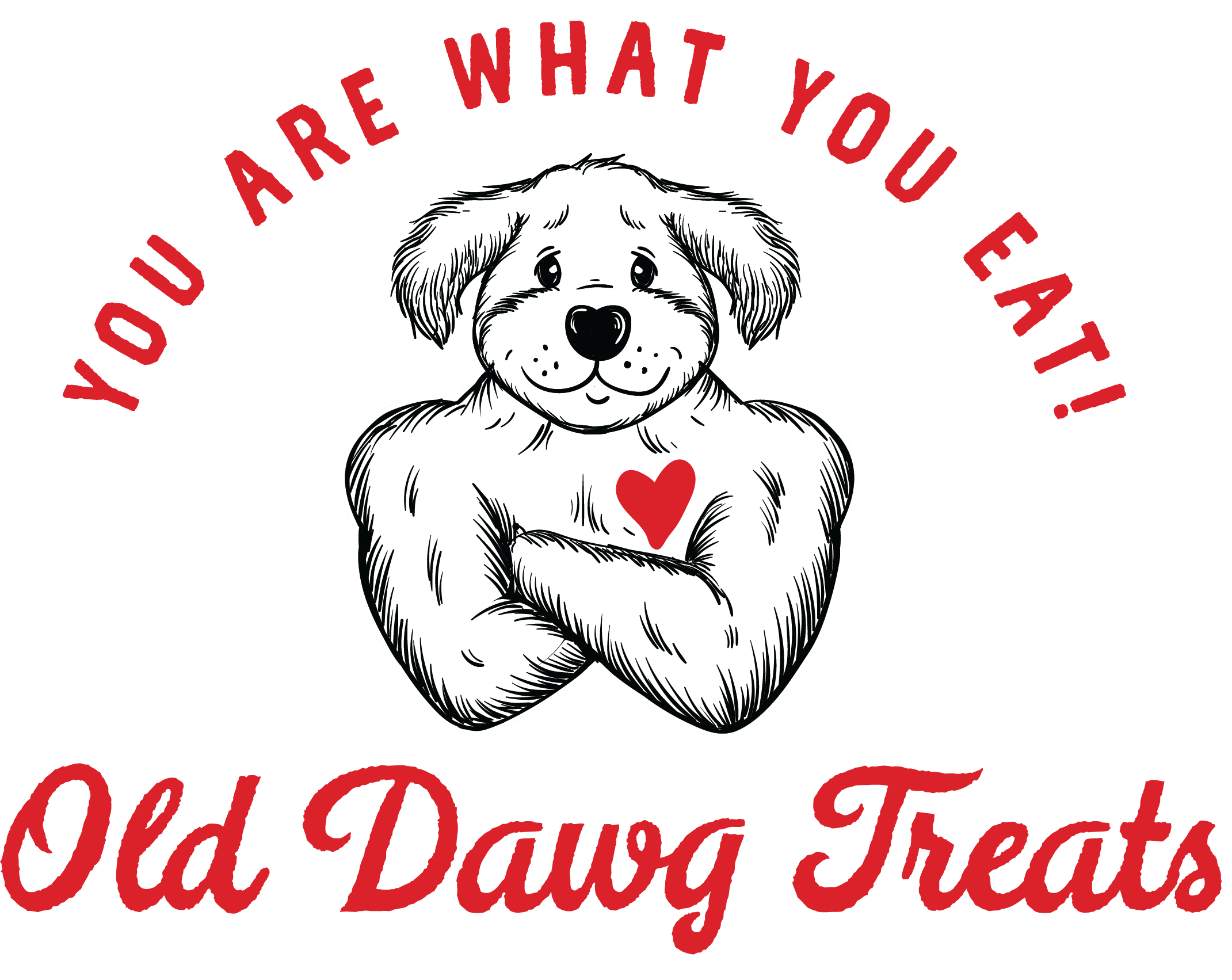 Support your beloved dogs's health for life
    A balanced diet is required to promote a healthy life for your dog. We have developed our slow baked from raw dog treats as a way of supplementing regular diets in order to provide a balanced variety of nutrients. 
    Our experience feeding dogs is that they thrive on diets that are a high percentage of meat, so providing them a variety of Old Dawg dog treats can be seen as more than just a training reward or a reward for good behavior.
The dog treats you give your furball contribute to their overall health.  For this reason it is important not to feed them empty calorie treats consisting mostly of grain. Old Dawg dog treats should be fed to your dog daily and rotated for nutrient diversity. 
Our slow bake from raw method removes 85% to 95% of the moisture of the treat (moisture varies depending on treat) retaining most of the treat's nutritional value. Simply put, feeding your dog our All Natural treats will help to keep them healthy, fit and help achieve our goal which is to contribute to a long happy life for them!
Buy our Six Pack of Natural Dog Treats and take advantage of our FREE SHIPPING! 
Remote locations may be subject to surcharge, we will contact you in this case.
(Orders over $58 ship for free)
             ******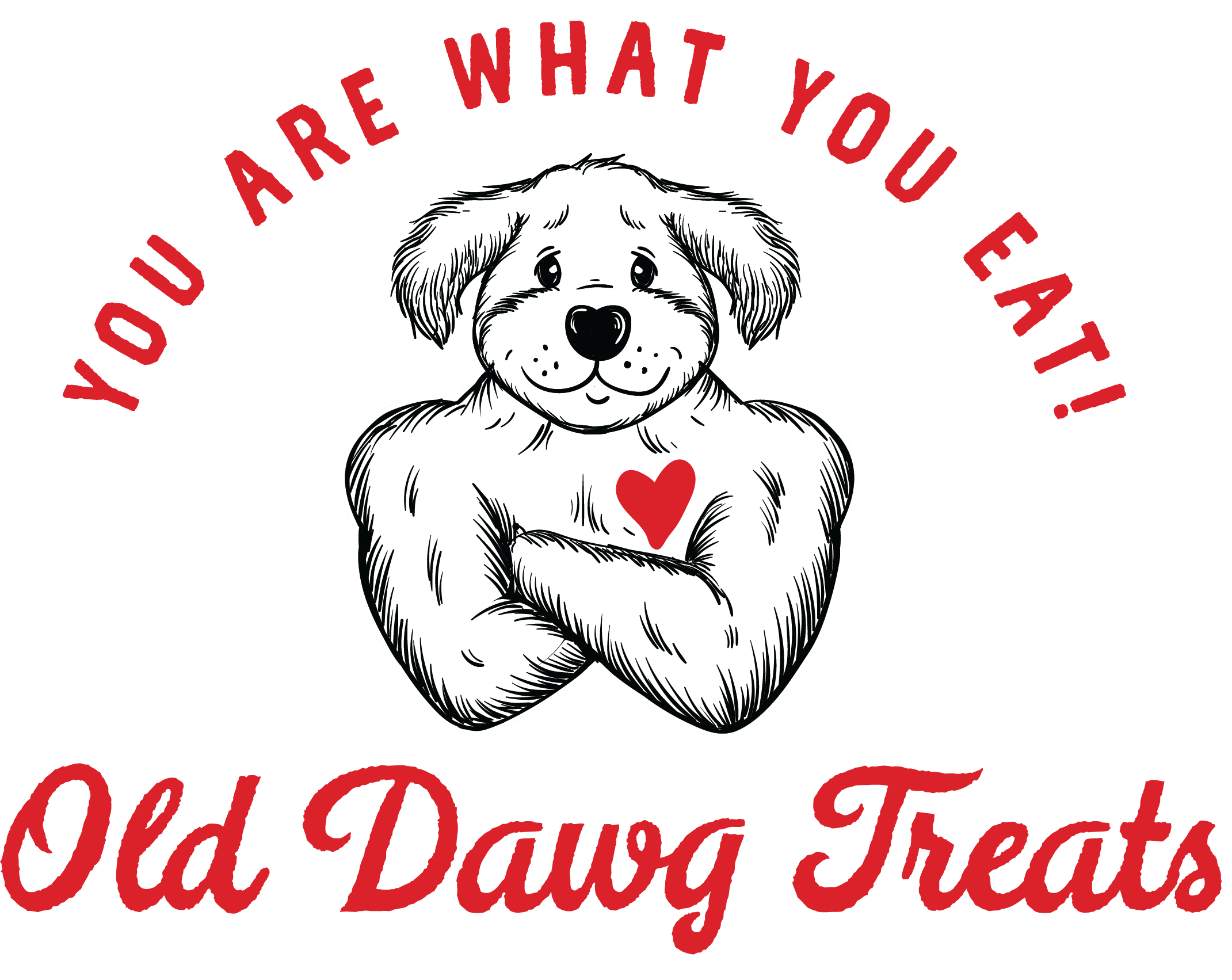 ******    
Old Dawg 6 Pack Monthly Subscription
About Us!
We grew up in the country and can't remember a time when we didn't have a dog. We had Labs growing up but came to love all dogs through the close bonds we made with our own dogs. We reached an age where we realized that eating healthy helps both us and our dogs live a long, happy life. We thought that if we could bake our own dog treats we could use only the most healthy ingredients. Well, as we began to learn about dog health and that different types of protein should be rotated, we realized that biscuits were mostly made around filler grains and flavoring. Some dog treat companies even used spent brewer's rice which is the rice after it is used in the brewing process.


So we decided to read up on what the healthiest treats would be for a dog to eat. We decided on human grade, slow baked from raw because this method keeps most of the nutritional value of raw while killing any harmful bacteria. We began searching for the best dehydrators so we could start to make our dog treats. As it turns out, there is a lot to making premium quality dog treats and we realized that we needed to find a company who would make our treats for us and keep the quality at a very high standard. As we researched the standards in Canada we found that there are no regulations for pet treat manufacturing. This wasn't cool with us so we read more to understand how to make the best quality of treats for our dog.


We found a facility that is Global Food Safe Initiative SQF certified level 3. This means that this company  is certified according to the World Wide Global standards and scrutiny for safety and quality. This is not required in Canada to make dog treats but it is required if we are going to give this to our dog. Once we found them we knew they had to become part of our team.


So we are two Canadian country boys with a love for the health of our dog and ambition to make our mark in the world. Our company "The Old Dawg Treat Co." was named after our Dad who has given us a lot of guidance. Thanks Dad we love you! He doesn't think he's old! We are excited and proud to offer our first six dog treats that are designed to be rotated so that your fur ball gets a variety of nutrition. We are already working on our human grade, slow baked doggie training treats so keep an eye open for them. Thank you for stopping by and we know your dog will LOVE our treats!