Old Dawg Beefy Dehydrated Raw Topper (2kg bag)
The Benefits of Beefy Dehydrated Topper
The Old Dawg Beefy Dehydrated Raw Topper is great for your dog because it helps strengthen the immune system, cleans teeth and breath, fights cancer and promotes vitality. Along with that, it's made from 100% natural food, no synthetics or preservatives.
Ingredients: Raw Beef, Raw Beef Heart, Raw Beef Liver, Beef Bonemeal, Raw Kale, Raw Red Cabbage, Raw Zucchini with skin, Raw Brown Mushrooms, Ginger, Parsley, Chia Seeds, Himalayan Salt Crystans, Dulse Sea Vegetable Powder, Hempseed Oil.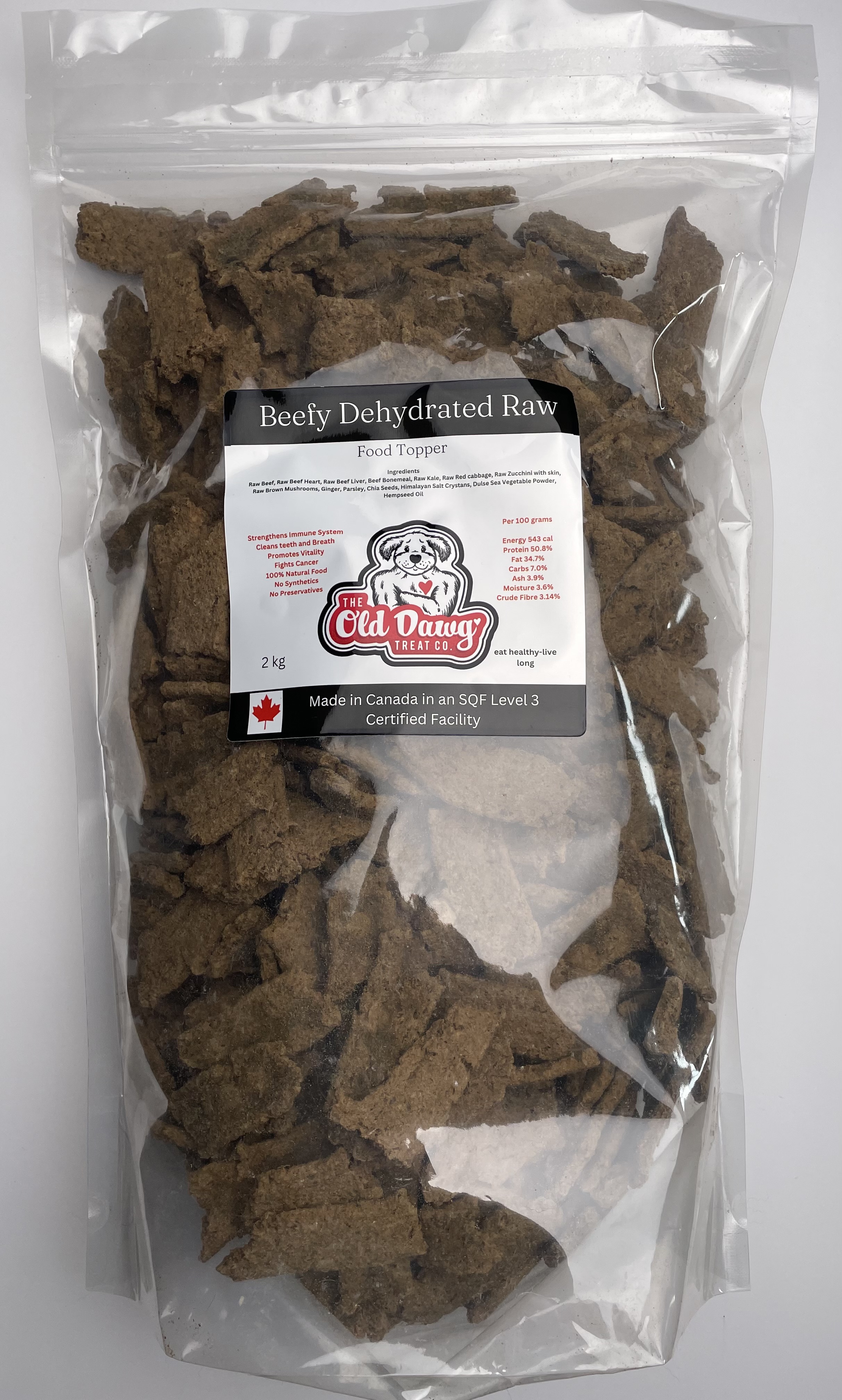 Nutritional Information (Per 100g):
 
Protein - 50.8%
Fat - 34.7%
Carbs - 7.0%
Ash - 3.9%
Moisture - 3.6%
Crude Fibre - 3.14%
Please Note: Prices are in Canadian Dollars.  We do not ship Mendota Leashes to the USA.
If you are purchasing the Old Dawg Treats, we offer a 100% satisfaction guarantee. See Terms of use for returning unused packages. If you are purchasing the Puppy Trained Right program, because this is an online training program, there are no refunds for purchasing the training program. If purchasing a West Paw toy covered by their Love it replacement Guarantee, please visit their website for further guarantee information. We accept returns on unused items in new condition for any reason up to 30 days after shipping. Items must be unused and in original packaging. You are responsible for shipping the item back to us. Email us for a return authorization.