Beef Trachea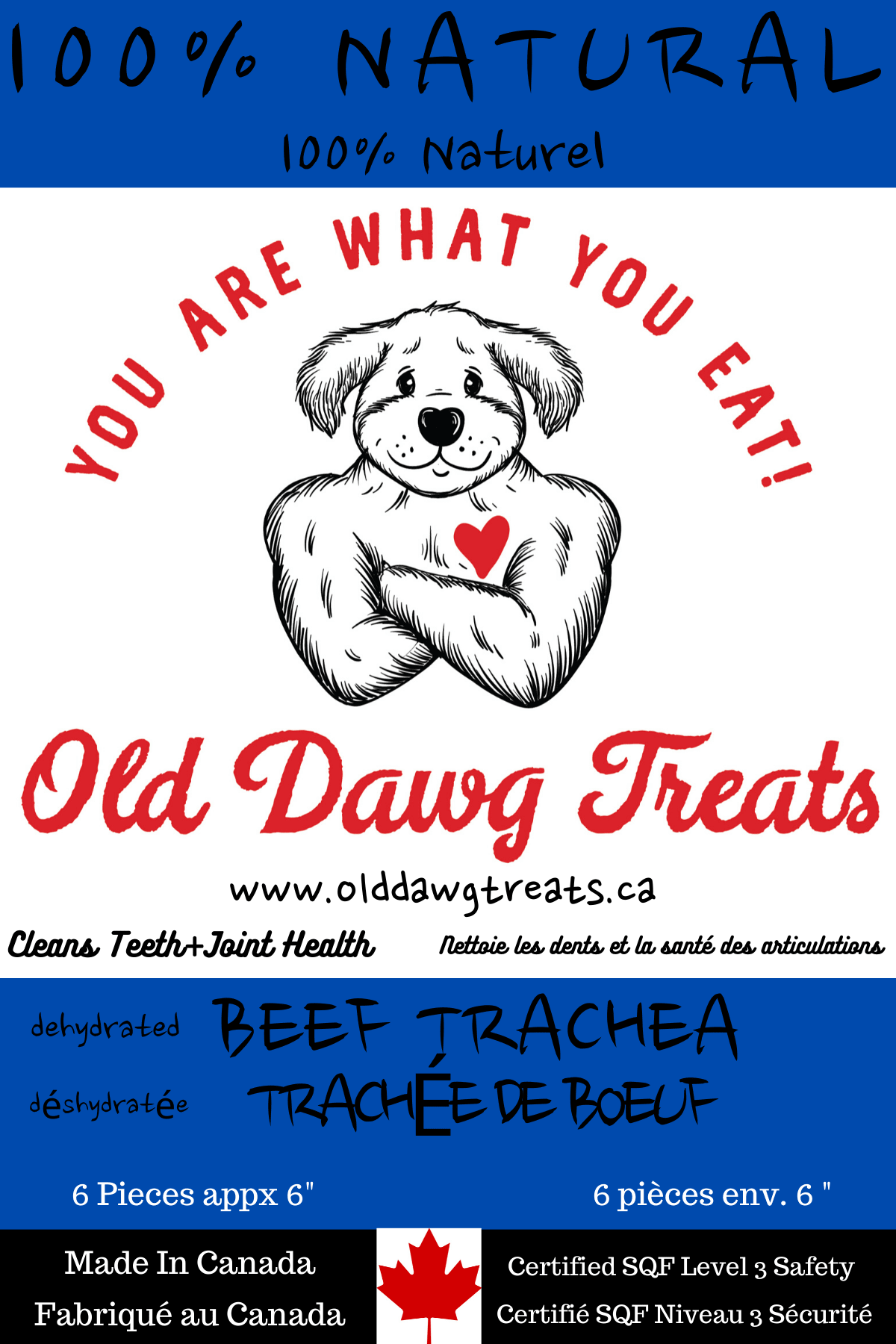 Benefit of Beef Trachea for your Dog
A Beef Trachea treat is a great way to give your dog Glucoasmine and Condroitin required for joint health. In addition to it being a super food for your dog's joints it is a great natural way to clean their teeth! It is such a good source of nutrients for your dog's joints that a leading supplement is made from beef trachea. The difference is that our source of joint goodness, unlike a pill, is not processed in any way. The only thing we do with these trachea is remove the moisture via our slow dehydration method. There is nothing added, no preservatives, and because this dog treat is a food in its natural state, the nutrients will be naturally absorbed while your dog is enjoying the experience eating it! Not only is more of the nutrition absorbed by your dog's digestive system than would be absorbed taking a pill, you can provide them with much needed building blocks for healthy joints! We recommend these treats from the age your dog is fully grown until old age. Dogs who have  been diagnosed with arthritis can have one trachea a day , while for general maintenance (and especially for very active dogs) we suggest 1/2 of one of our beef trachea treats daily. 
Stuff them with peanut butter or another raw food, freeze them or feed them at room temperature or just give them solo! One trachea provides approximately 1400 mg. of glucosamine, however, because these are natural and sizes vary, this amount will differ from trachea to trachea. 
Studies suggest combining glucoasmine and condroitin with Omega 3 (in our natural salmon skins) work synergistically to protect and repair joints. You save money when you purchase our Joint Health Bulk Pack of Salmon skins and Beef Trachea here. 
Nutritional Information
Crude Protein 49%
Crude Fat 21%
Crude Fibre  6%
Moisture 11%
Ash 3.91%
*Because these treats are natural the length varies, most treats are close to 6" long but they do not always dehydrate straight. Be sure to supervise your dog while consuming and always provide them access to fresh water.
$23.99
This item is currently unavailable, please check back soon!
Please Note: Prices are in Canadian Dollars.  We do not ship Mendota Leashes to the USA.
If you are purchasing the Old Dawg Treats, we offer a 100% satisfaction guarantee. See Terms of use for returning unused packages. If you are purchasing the Puppy Trained Right program, because this is an online training program, there are no refunds for purchasing the training program. If purchasing a West Paw toy covered by their Love it replacement Guarantee, please visit their website for further guarantee information. We accept returns on unused items in new condition for any reason up to 30 days after shipping. Items must be unused and in original packaging. You are responsible for shipping the item back to us. Email us for a return authorization.