Luggers Training Treats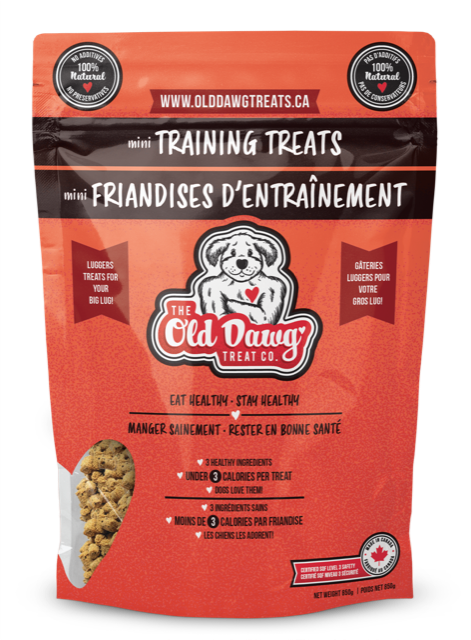 Luggers: Training Treats for Happiness and Health
These dog treats for training are low in calories so you can reward your dog often and minimize the issue of overfeeding. The ingredients are all natural, no additives or preservatives making them a perfect, healthy reward! Use them for daily training or if you just want to give your dog rewards throughout the day for displaying the desired behavior, they will love these liver-based treats!
Luggers are named after our pet name for our own dog, we call him the Big Lug! So, naturally after a long while figuring out what combination of flavors he loved the most we named our training treats after him. They are great for both big lugs and little luggers. 
A common method is to use these low calorie treats each time your dog performs a command properly. At the end of a session or if your dog has a break through on a difficult task give them a larger reward of one of the Old Dawg All Natural Treats. After a couple of months of training, gradually decrease the frequency of your treat rewards. So at first you will reward every time your dog executes your command correctly. Then rewards will come every other time, then every third time, and so on until you can just reward your dog with a high value treat once a training session. 
Please Note: Prices are in Canadian Dollars.  We do not ship Mendota Leashes to the USA.
If you are purchasing the Old Dawg Treats, we offer a 100% satisfaction guarantee. See Terms of use for returning unused packages. If you are purchasing the Puppy Trained Right program, because this is an online training program, there are no refunds for purchasing the training program. If purchasing a West Paw toy covered by their Love it replacement Guarantee, please visit their website for further guarantee information. We accept returns on unused items in new condition for any reason up to 30 days after shipping. Items must be unused and in original packaging. You are responsible for shipping the item back to us. Email us for a return authorization.