8 to 20 Weeks Old is Key Puppy Training Age!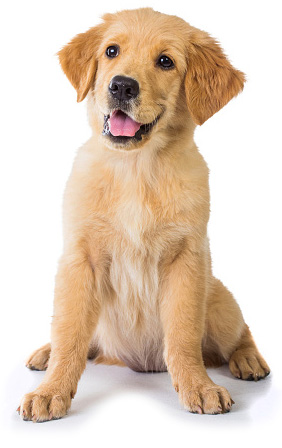 With Puppy Trained Right, you'll learn how to create an environment conducive to a smooth transition, so that your puppy can adapt easily to your home. Begin training your puppy now so that you can enjoy a well balanced, obedient puppy for many years to come!
Many people have limiting beliefs when it comes to puppies and puppy training. These beliefs aren't necessarily based on reality, and can prevent humans from training their puppies properly.
For example, puppy owners often believe that once they've had their puppy trained, they're done; the puppy will come home fully trained, and stay that way forever. This is not true! Puppy training must be reinforced and maintained on a daily basis throughout the puppy's life. Puppy training classes is really puppy training geared to puppy owners, providing them with the tools they need to manage their puppies on a daily basis, year after year.
The Puppy Trained Right Program
Our puppy training program is designed for busy puppy owners who are committed to training their puppies into well-adjusted adult dogs. It works from the comfort of your home, or on your phone during your lunch break.
Training on your own time removes the need for a scheduled weekly class, and also allows you to watch the puppy training lessons over and over... something you can't do otherwise.
It's easy for anyone (recommended age: 12+)
Based on positive reinforcement puppy training
Dispels common puppy training myths
It's more convenient than puppy training classes
You can begin learning now before your puppy comes home
Gives you time to prepare your family and your home
Get Printable checklists for socialization and potty training
Train your puppy properly the first time instead of learning from your mistakes
We're recommended by breeders for our high level of puppy training success
11 Puppy Training videos-all you need to start off on the right foot including how to potty train your puppy using bells to go outside.
12 Training Articles from House Training to Training Your Puppy Not to Bite, Getting Your Puppy to Stop Jumping Up, Puppy Impulse Control and Much More
Puppy Socialization and Puppy House Training Printable checklists
Over 30 articles between the membership and free pages to build knowledge of your dog. Puppy Crate Training, Puppy Play Biting/Nipping or Destructive Puppy Chewing, How to Socialize your Puppy, Introduce Your Puppy to Dogs/Cats, Shots, Feeding, and Puppy Dental Care are just a few!
---
» Learn More About Our Online Training Course